Since 2005, when we first helped create a state designated Cultural District in Fairfield, the Fairfield Cultural Alliance has been working to support arts, culture, history, and creative expression in our town, Fairfield, IA.
One of the ways we do it every year is to have an annual party, bringing together artists, entertainers, historians, educators, and businesses who are all part of our cultural community.
On Tuesday, Nov. 14, we provided a venue for folks to speak to each other personally and as a group, to let each other know what is going on, and to show appreciation of these efforts. Several attendees stood up and spoke about their project.
Cultural Trust Fund Mini-Grant Awards were announced, and who they will support.
Michael Dugan, local singer/songwriter, gave a soulful performance.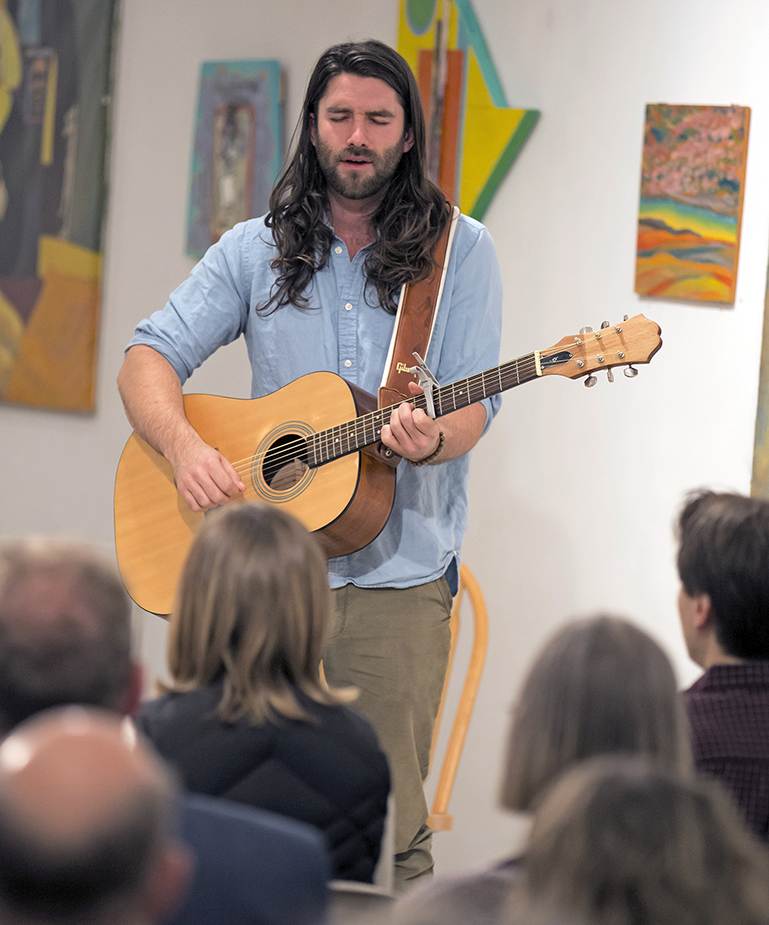 Our esteemed Mayor gave a report on Arts & Cultural progress in Fairfield, from the City Hall perspective.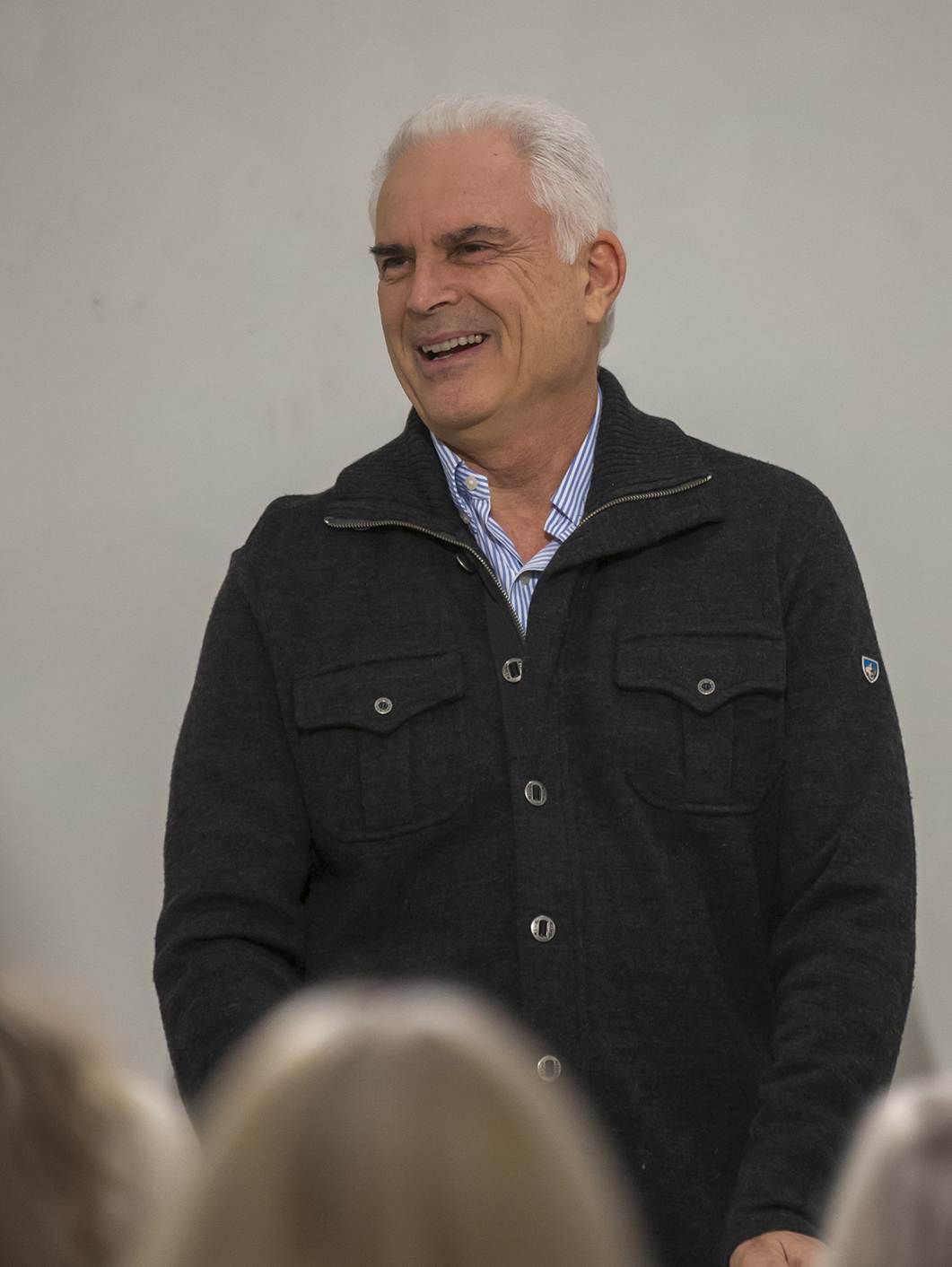 Awards for Cultural Achievement for 2017 were announced.
Now, more than ever, we find comfort and joy in turning to the talents of our local artists, entertainers, and all those who create beauty and love here in our Great Place, Fairfield, Jefferson County, Iowa. It is important to continue to show support, both monetarily and morally, so our area can continue growing and living up to its reputation of being the warmly welcoming, yet cool place to visit or live, in Iowa - indeed in the midwest. The FCA has been happy to do this in their own way.
The FCA would love for more people to join our board of directors. Help spearhead projects, continue our annual events, and show your Fairfield spirit.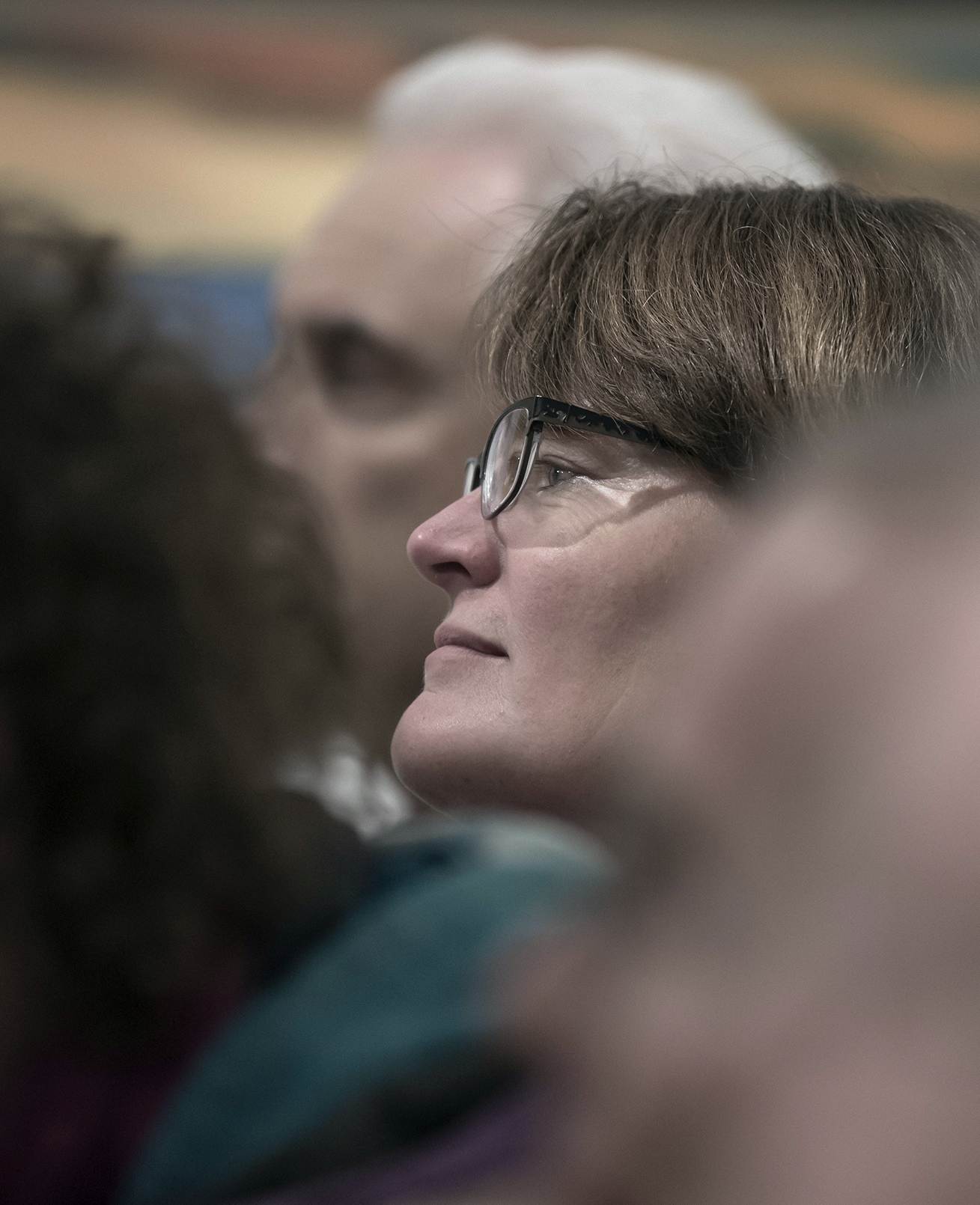 In 2017, as they have every year for several years, the Fairfield Cultural Alliance happily distributed Cultural Trust Fund Mini-Grants to worthy projects in our community. The FCA knows the small grants are a drop-in-the-bucket for what many folks may need. But they do show support.
1. Fairfield Arts & Convention Center — for an "Executive Mobile Lectern" for the FACC stages and meeting rooms.
2. Greater Fairfield Area Habitat for Humanity — for Habitat Restore publicity to surrounding areas, to increase awareness.
3. Southeast Iowa Blues Society — for "Rockin' in the Blue Year" (Dec. 30, 2017) publicity expenses.
4. Young Professionals of Fairfield — for membership expansion events.
5. Fairfield Production — for publicity of the new film "Heroes of Fairfield", coming in July 2018.
6. Fairfield First Foundation — for Werner Elmker's photography work.
7. Organ Committee/Fairfield Arts & Convention — for upgrading the FACC organ pipes from metal to wood.
8. Carnegie Museum Foundation — for website development to increase tourism.
9. Everybody Sings Chorus — for their upcoming concert, Hymnody of Earth in 2018.
Group photo of the recipients of awards for 2017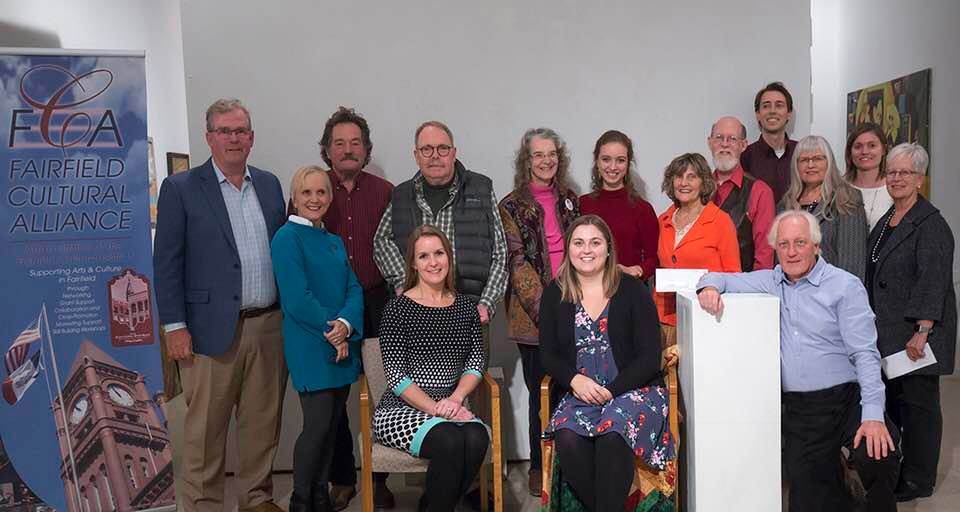 Every year the FCA likes to honor individuals or groups that have made a significant contribution to the Arts & Culture community of Fairfield. This year, three different honoree's were brought to our attention.
1. The first person and group honored was Judie Herzog and the Northside Strippers.
Judie leads the quilting group by organizing ways to share their quilts with the Fairfield community. They have been and continue to be exhibited in the Arts and Convention Center lobby area. The displays are changed every month, sometimes more often.
She and the Northside Strippers work hard on the annual quilt show in the convention center where quilters from all over the region bring their wares for show and sale. Quilts are also displayed in shop windows during some ArtWalks. The group also makes quilts for distribution to children in crisis in the hospital and for others as the need is known.
Therefore, we honor Judie and her good work.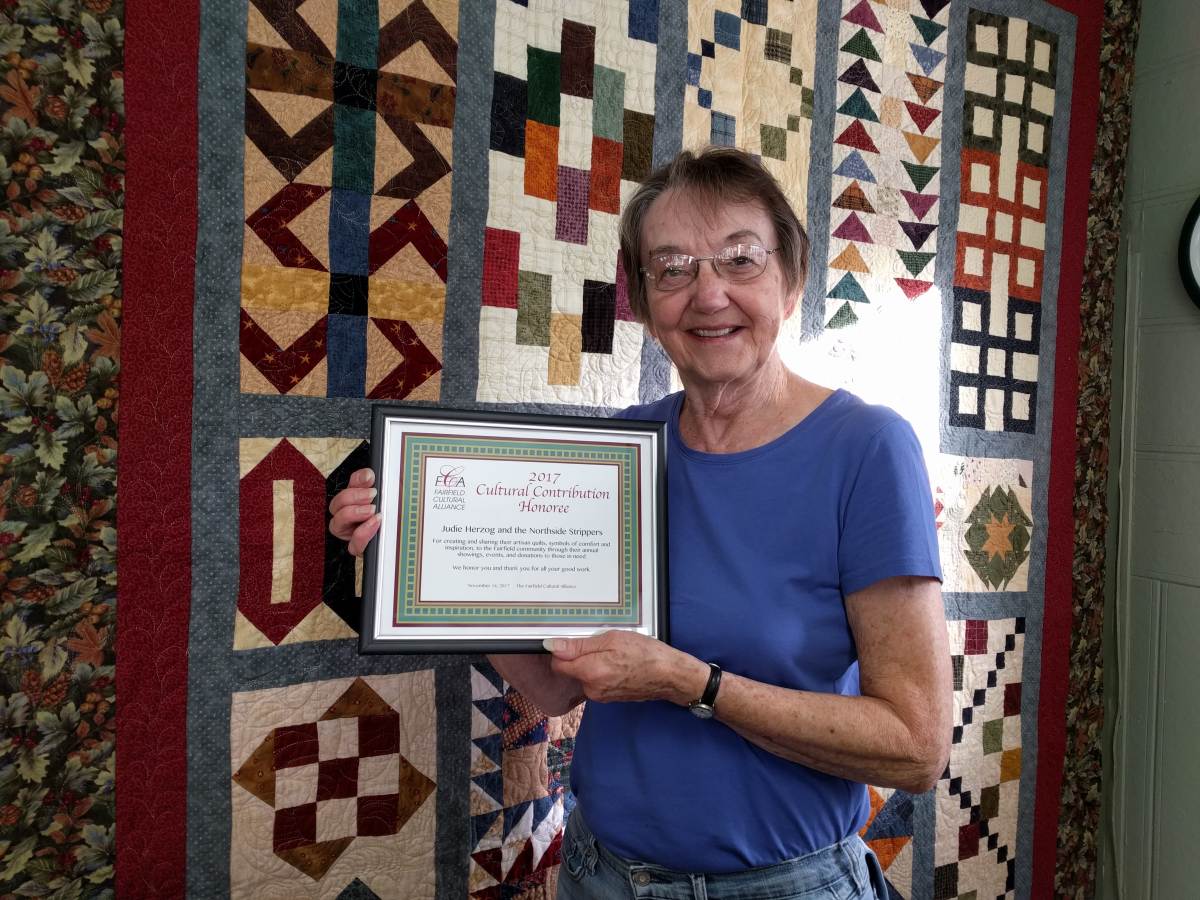 2. Something, you might say, monumental also happened this year. The Lee Gobble sculpture project took over 2 years from idea to completion and brought together members of the Art Association, the Fairfield Arts & Convention Center, and the City of Fairfield, plus many more to make it happen. We especially want to honor the artists themselves.
Artists - Chris Bennett (left), lead artist and sculptor, Ken Rowe, creator of the head and hands, Mark Shafer (middle), creator of the design for the tile base of the sculpture, Harri Aalto, translator of Shafer's design into tile. and Werner Elmker (right), photographer for the project.
Commissioned by Fairfield Art Association for the city of Fairfield, lead artist and sculptor Chris Bennett said several designs were proposed before the final sculpture concept was chosen, and those involved in the process never failed to find characteristics and items to include. Those who remember Lee Gobble, who died two years ago at the age of 100, know he was constantly supporting the Fairfield community and helping its residents, both publicly and privately.
We gave a special "Thank You" to Chris and the all the artists, along with a small donation to the Fairfield Art Association, to assist their fund raising to complete the project.
3. This year was a milestone for another Fairfield Cultural Leader.
Elaine Reding has been conducting the Chamber Singers of Southeast Iowa (originally founded in 1991 as the MUM Chamber Singers) for 26+ years of annual winter and fall offerings of outstanding choral music to the Fairfield community, as well as occasional special performances at weddings, memorials, and community events. Elaine is the driving force and intelligence behind every aspect of this quality community chorus, including music selection, concert programming, rehearsal and performance arrangements, instrumental enhancements, publicity, and much, much more.
Recent activities —
⚫ 25th anniversary concert at the Sondheim Center — May, 2016
⚫ She prepared the chorus (beginning in June of 2016) to perform in January of 2017 in New York's famed Carnegie Hall. Nineteen members of the Fairfield-based Chamber Singers became part of a 180-person choir of international singers and full professional orchestra in the New York premiere of a "Requiem" by young Norwegian composer Kim André Arnesen (who was present at rehearsals and the performance). Elaine spearheaded fundraising and was instrumental in organizing all the details of the group's trip to New York City.
⚫ Finally, Elaine organized and presented a thank-you gift to the Fairfield community: a videotape of the Carnegie Hall performance shown at the Sondheim on February 26.
Because recordings of Carnegie Hall events are copyrighted and the Chamber Singers of Southeast Iowa received a single copy of their January performance, the February showing was the only opportunity local people had to see the group's Carnegie Hall debut.
Here, Elaine told the audience that when she first received a letter saying the group was being considered to sing at Carnegie Hall, she was incredulous. "This was such a surprise that I thought it was a mistake," she said.
However, a formal invitation eventually arrived. Distinguished Concerts International — New York (DCINY) wanted Chamber Singers to be part of its "Reflections of Peace" concert Jan. 16, a concert featuring the New York premiere of Norwegian composer Kim André Arnesen's "Requiem." They went. They sang.
The Fairfield Cultural Alliance was happy to give the Fairfield Cultural Contribution Award and Cultural Legacy Award for 2017 to Elaine Reding and the Chamber Singers of Southeast Iowa.
Denyce Rusch, president of the FCA, presenting the award to Elaine Reding, saying, "You and your chorus did your hometown proud".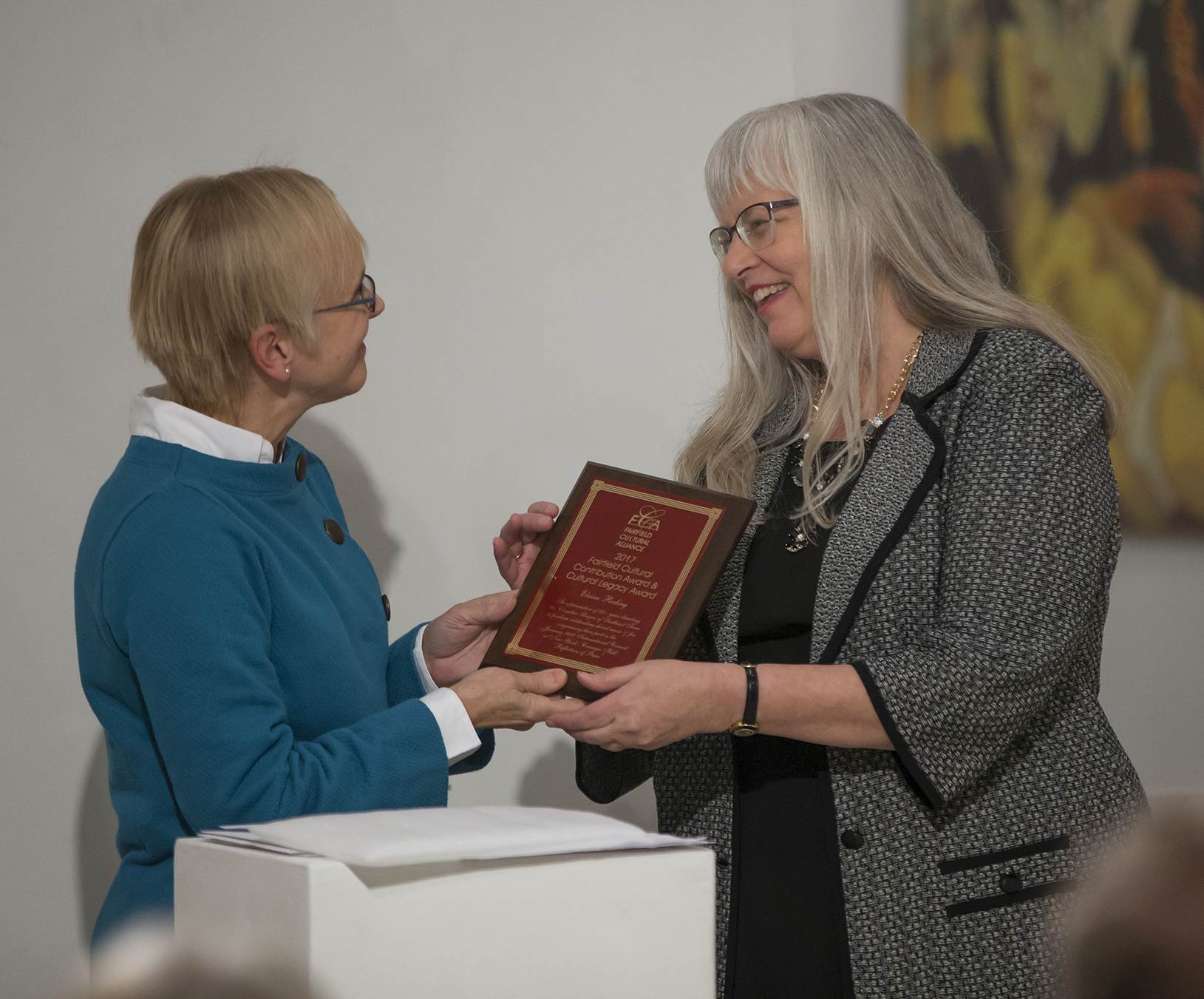 All photos by Werner Elmker.
For more info, email the FCA at fairfieldculturalalliance@gmail.com or go online to fairfieldculturaldistrict.org (this website).