4.

Jefferson County Courthouse
Main & Court Streets (built 1893)
Built in the fashionable Richardsonian Romanesque style, the courthouse design centered on a 142-foot high corner clock tower, but the top and some other details were removed in 1949 because of a violent wind storm.
New for 2018 - photos by Werner Elmker.
In Nov. 2004 a new steeple was installed on the clock tower to replace the one that was removed in 1949. Lee Gobble's efforts to restore this steeple is told in a Fairfield Ledger newspaper story.
Additional renovation is taking place in the interior. The court room was completed in 2010 - photos on the County website.
The terra cotta bas-relief sculpture on the west wall is an allegory of Blind Justice, flanked by Harmony and Strife. See courthouse photos here and even more here.
See more steeple details and roof repair plans from Prairie Architects, Inc.
Note: The courthouse in Red Oak, IA, is almost identical, but reversed (both designed by H. C. Koch).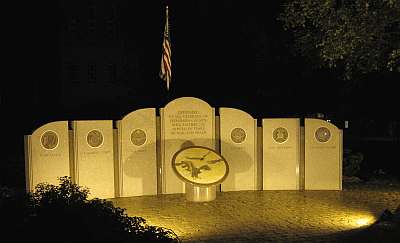 Jefferson County Veteran's Memorial, Main Street, on the Courthouse grounds
A memorial honoring veterans from the Army, Navy, Marines, Air Force, Coast Guard and National Guard was dedicated on November 11, 2005 on the west side of the Courthouse lawn. See more photos of the memorial.
Click here for the National Register of Historic Places Registration Form and photos for this building, which you can download.