On Tuesday, November 13th, 2012, the Fairfield Cultural Alliance held its 3rd Annual Networking Gala and Award Ceremony at ICON Gallery on the Fairfield square. Cultural organization representatives, civic leaders, artists, and those interested in our community came together for a festive evening to share experiences and lay groundwork for the future.
James Moore of KRUU spoke about an upcoming Culture Fest in June that will feature multiple venues and local and national talent, including music, inspirational and educational speakers, a variety of great food, and creative films. The plan calls for the festival to funded by sponsors and be free to the public. People who would like to help may contact KRUU for more information.
Dr. Derek Anderson, director of Two Roads Educational Arts and Theater, also updated the gathering on the progress of this non-profit young children's theater company. Their group has performed several productions including "Pinkalicious," "Frog and Toad," and "Goodnight Moon" in both their Broadway Building theater venue and the FACC Sondheim Center in 2012.
Dr. Derek and Sara Anderson of TREAT receiving award
Mayor Ed Malloy encouraged arts and community lovers to work with the Fairfield Cultural Alliance to foster their goals of supporting arts and culture in Fairfield's Cultural District. He also spoke about a grant that may be coming available for building owners on the square to upgrade and beautify their facades, enhancing their historic aspects.
Regine Constant, dancer and dance instructor, entertained the crowd with a beautiful exotic Middle Eastern dance to represent the artists of the community.
Denyce Rusch, president of the Fairfield Cultural Alliance, also reported on her and Jeffrey Fitz-Randolph's attendance at the 2012 Iowa Downtown Summit in Keokuk this August. They gathered information there on ways to make our Iowa downtowns grow and prosper.
She encouraged interested developers and retail business owners to contact her via email (see Contact Page) to get more info on the trends for the future and tips for success from the various speakers at the conference.
The highlight of the evening came when Ms. Rusch presented two Cultural Contribution Awards, explaining that balloting had ended in a tie. One award went to Two Roads Educational Arts and Theater in appreciation of their work providing and promoting family theater in Fairfield.
Another award was presented to Bill Teeple, artistic director of the ICON Gallery. The award honored Mr. Teeple for his many years providing art education and valuable resources to artists and art lovers of the Fairfield community. Surprise and delight was marked on the faces of both the recipients.
Janet and Bill Teeple of ICON Gallery receiving award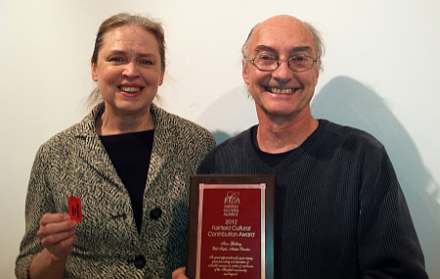 Ms. Rusch also pointed out that our community is so rich in art and culture that it is difficult to narrow down to one or two recipients per year, and she hoped over the years that all of the worthy organizations and individuals can be honored and celebrated by Cultural Contribution Awards.
The Fairfield Cultural Alliance is a group responsible for the Fairfield Cultural District designation from the State of Iowa. The FCA publishes a Fairfield Walking Tour booklet and administers the Cultural Trust Fund. Their board enjoyed presenting the evening to the community, and encourages all those interested to join the FCA, meeting regularly throughout the year, and take part in projects that support and give recognition to the arts and culture of our valued community. For details, contact Denyce Rusch at 641-472-3866 or email (see Contact Page)
Some of the people in attendance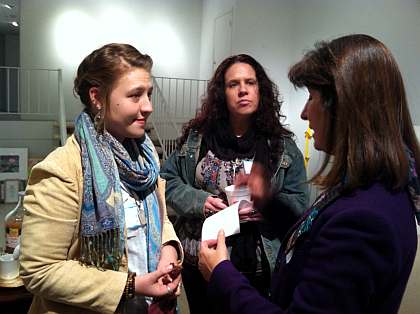 Just a few more people in attendance