BNSF Railroad History
The first train to arrive in Fairfield (1858) was from Burlington, Iowa, on the Burlington and Missouri River Railroad. Track construction was completed to Omaha, Nebraska, sometime after the Civil War ended.
Also, by this time a railroad bridge had been built across the Mississippi River, allowing connections to Chicago.
The BMRR was absorbed by the C B & Q (Chicago, Burlington & Quincy Railroad) about 1872.
In 1901 the C B & Q dualized and straightened the tracks through Iowa. Tall trestles (still in use) were built at each end of Fairfield, on the east near Chautauqua Park and on the west near Whitham Woods.
This route is now a key part of the Burlington Northern Santa Fe Railroad (BNSF), which absorbed the C B & Q.
Two sections of the original alignment of the Burlington & Missouri Railroad are utilized for trails, one at each end of Fairfield.
⚫ East section -- The "back side" of the driveway around Chautauqua Park is on 0.3-miles of this old roadbed. The trail bridge over Crow Creek (which connects to the Loop Trail) replaces a railroad bridge which was abandoned in 1901.
⚫ West section - Until 1901 the tracks ran through was is now Whitham Woods. About 0.25-miles of this old roadbed is used by the Loop Trail. The old railroad bridge abutments can be seen just off the main trail. The section through the cow pasture had to be raised for the trail, but was built on top of the old roadbed and can be seen from Business Hwy 34.
The Chautauqua Park "back side" driveway which was the original roadbed of the C B & Q railroad.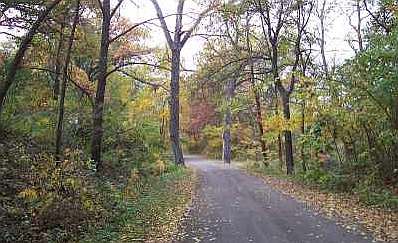 The old C B & Q roadbed, looking toward Whitham Woods. Viewed from Business Hwy 34 West.