11.

Wilson Building
106, 108 S. Court Street (built 1876)
Very much unchanged from the original façade, the classic Italianate commercial facade includes cast iron ground floor elevations and bracketed cornices, (as does the building next door to the south, 110 S. Court Street).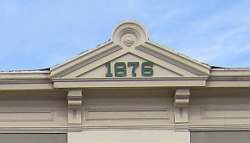 This and the next building (#12) were built by United States Senator James Wilson, the only U.S. Senator from Fairfield.
About James Falconer Wilson: He held state-level elected offices, then was elected to the U.S. Congress in 1861 to fill a vacancy, and was subsequently reelected to four consecutive terms, until 1869.
Beginning in 1863 he proposed and supported an amendment to abolish slavery throughout the entire United States. Representative Wilson was delegated in 1865, along with two Senators, as the "The Committee of Congress" to take official word to the Executive Mansion of Lincoln's reelection as President.
In addition, Wilson was one of the managers appointed by the House of Representatives in 1868 to conduct the impeachment proceedings against President Andrew Johnson.
President Ulysses Grant tendered the position of Secretary of State in the Cabinet, but Wilson declined. In 1869 he was appointed by President Grant as government director of the Union Pacific Railroad and served for 8 years.
Then in 1882 he was elected to the United States Senate and served from 1883 to March 3, 1895.
In 1891 he convinced Andrew Carnegie, a friend of his, to subsidize a permanent home for a library in Fairfield. Wilson donated the land for the library, adjacent to his buildings on South Main Street (see Library building #13 here).
Wilson's home is still standing at 805 S. Main Street, bldg #50). He died in Fairfield on April 22, 1895; interment in Fairfield-Evergreen Cemetery.
Click here for the National Register of Historic Places Registration Form and photos for this building, which you can download.