Fairfield's Central Park, page 3
On the northwest corner of the square a mortar-and-pestle finial is still on the top of the Gothic-revival tower — it refers to the building's original function as a pharmacy.
Drugstores were housed in this building from 1857 until 1996, when Brown's Pharmacy closed (it now houses commercial offices, 60 N. Main St) -- see drugstore and mortar-and-pestle photos.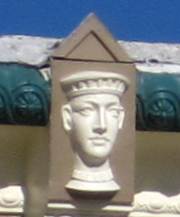 The J. F. Crawford Building (now housing Davis and Palmer Real Estate) is much like it was in 1883 (after a remodel in 2017). Look for the four young women's faces staring out from the cornice. Or are they men's faces?
On the photo page, also see a postcard from the early 1900's showing this store (in the lower-right corner). This vintage postcard also clearly shows the Light Tower in Central Park.